Arca Clamp Adapter Plate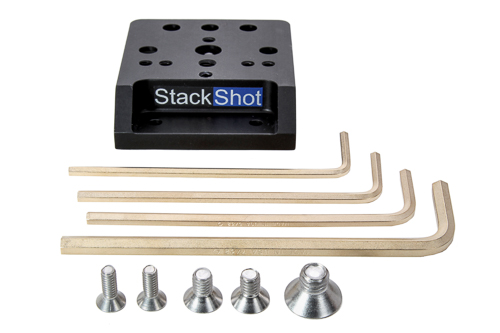 The Arca Adapter Plate is used to provide a low profile, secure method to mount an Arca Clamp to StackShot. If you have already have a quick release plate on your camera using the Arca adapter plate and clamp on the StackShot rail makes it extremely fast and easy to add and remove the StackShot rail from your tripod stack. The animated picture below shows how to mount the clamp. All of the bolts and Allen keys required to attach the adapter plate to StackShot and to attach the quick release clamp to the adapter plate are included. The quick release clamp and plate are available from suppliers like Wimberley, Really Right Stuff or Hejnar.
The adapter plate has many different mounting options to make it compatible with many of the Arca compatible clamps on the market. You can download the bolt pattern for the adapter plate here. For many Arca Clamps it is possible to mount the clamp from the top of the adapter plate, the adapter plate also allows for rotating the clamp this allows the camera to be mounted by either the lens foot or the base of the camera.
The dovetail machined into the base of StackShot is designed so you can use the Arca Clamp that is mounted on your tripod to hold StackShot without having to purchase another quick release plate.
StackShot Mounting Overview
Arca Clamp Options
Pictured left is a Wimberley C-12 Quick release clamp attached to the Arca Adapter Plate in both orientations.
Pictured left is a Really Right Stuff B2 Pro L Quick release clamp attached to the Arca Adapter Plate with multiple screws from the bottom of the plate.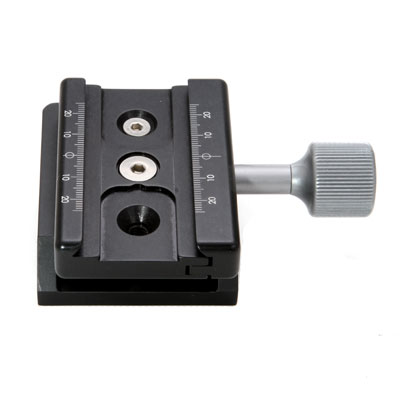 The Arca Adapter Plate also features several 10-24 threaded holes in the top to allow the clamps to be mounted from the top. This feature allows you to change the orientation without removing the adapter plate from the rail.
Show Left is the Really Right Stuff B2 Pro and Novoflex attached to the Arca Adapter Plate. Note the B2 Pro cannot be turned 90 degrees and have two bolts installed.

Animation courtesy of Alexander Zubrickij